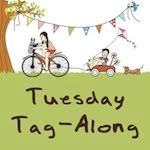 Linking up to Twee Poppets Tuesday Tag Along again!
Today was the end of my streak of working for 13 days straight without a day off. Needless to say I'm exhausted.
In brighter news, my team in the bowling league took first place this last Saturday night, AND I bowled my highest game EVER! a 177! My second highest was only a 151, so I was insanely proud to get that high of a game!
Wednesday my best friend has her c-section appointment ! I get to be an auntie again, and I couldn't be more excited for ANOTHER new baby :) We will be going out of town this coming weekend for a wedding in Galena, IL, which is a couple hours south of where I currently live. I've never been to Galena, but I have heard it looks like a mini-Ireland, and that it's breathtaking, so hopefully I will find time to take some photos while I am there!
My dress went in for alterations this morning. I decided to get it hemmed to me in flip flops, that way I don't have to wear super high, uncomfortable heels all night, but I can still wear them until my piggies start hurting. My dear hubby's birthday is coming up on the 10th, and I bought him a fancy new dress shirt and tie that he's excited about. He's tired of only having 2 nice shirts to choose from!
Hope you are all doing well!