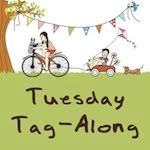 Linking up to
Twee Poppets
Tuesday Tag Along again today! I apologize for the lack of updates over the weekend, but I'm in a work marathon, and my next day off is June 9th, which is also the same day as my friend's c-section appointment! I'm all excited to be an "auntie" again!!
Tomorrow is our weekly Girls Night Out with my friends, and I'm trying
this recipe
from
Bakerella
! I was told all we need now is wine and sweets. Granted mine won't look as nice as these I'm sure, as I work tomorrow, and only have about 2.5 hours to prepare them! Picts to come of my attempt!
If you're stopping by for the first time, HELLO! :)