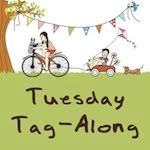 I've decided to participate in Tuesday Tag Along again! I found so many great blogs last time I couldn't resist!
We took Riley to the vet for his 1 year appointment today! He was such a good boy. He sat, let them do the blood draw, and do all of his vaccines and boosters without a fuss! Even the vet was impressed. So mommy and daddy went and bought him a new toy. He's very excited and not paying attention to either of us now!
I'm actually cooking a meal tonight. I'm making my Gluten free chili again! Perhaps I will take some picts and throw the recipe up here once it is done!
Big exciting blog changes are coming soon! Thanks to
Strosgirl Designs!
I look forward to finding new blogs to follow!